What is the Press Ganey Seal of Integrity?
The Press Ganey Seal of Integrity ensures all ratings and comments are both valid and objective. By displaying the Seal of Integrity, Facial Pain Center proudly acknowledges that the data we use meets the following requirements:
100% validation of patient responses. Responses are from the patients who actually saw the referenced doctor.
Full compliance with the Press Ganey Star Rating methodology.
Assurance of 30 or more survey returns per doctor.
Complete posting of positive and negative feedback with the exceptions mentioned below.
For more information about Press Ganey, please visit their website.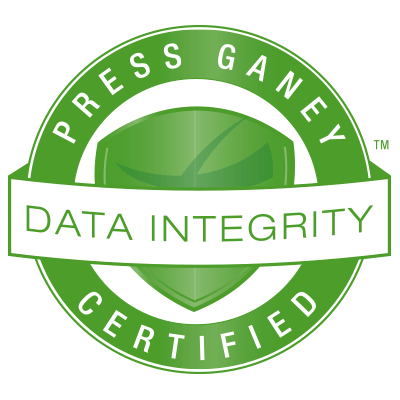 Why are the star ratings on the website different than the star ratings on Google, Yelp, and other third-party review sites?
The star ratings on our website come from verified patients who voluntarily complete the satisfaction survey sent by Press Ganey. Thousands of patients complete this survey each year compared to only a few dozen who review Facial Pain Center on Yelp, Google, and other third-party review sites. The volume of reviews on our website dramatically increases the accuracy of the patient experience, whereas reviews on sites like Yelp and Google tend to be skewed based on one or two experiences. Additionally, reviews left on other third-party sites cannot be verified as coming from actual patients. By posting all of the ratings and comments we receive from our satisfaction surveys, we are giving you the best possible representation of the experience you will receive when you visit one of our practices.
How does Facial Pain Center collect patient ratings?
All Facial Pain Center patients who provide their email address receive a satisfaction survey from Press Ganey within 48 hours of their appointment. Our partnership with Press Ganey helps us better understand patient needs and support our goal of providing the best possible patient experience. Your reviews and comments allow our team to regularly evaluate patient experience and improve the care we provide. Over 7,000 Facial Pain Center patients have contributed to the overall patient experience by completing this survey.
How are star ratings calculated?
We calculate star ratings based on patient responses to the following survey questions that come from the Doctor/Patient Interaction section of our patient survey:
Explanation of options for treatment
Amount of time doctor spent with you
Doctor's concern for your questions and worries
Caring shown by the doctor
Thoroughness of the exam and treatment
Confidence in the doctor
Doctor spoke using clear language
Doctor's concern for your overall health
Each doctor's star rating is calculated from all responses to the eight detailed questions listed above. Mean scores for each question are then calculated and divided by 20 to produce star ratings on a 0-5 scale. Example: Mean score of 94.4 / 20 = 4.72 or 4.7 stars.
Why do some doctors not have a star rating or comments?
In order to provide our patients with the most accurate and beneficial information, we only post star ratings and comments for a doctor once they have received a minimum of 30 surveys within the previous 18 months.
Are all patient comments posted on our website?
Yes, all comments are shown in their entirety with the exception of the following:
Profanity
Libelous wording
Protected health information
Details unrelated to the visit or doctor
Any such content is removed before publishing. We publish all other comments transparently in order to provide you with the tools you need to make an informed decision for you and your family.
How is patient information protected?
Patient names are not displayed in online ratings and comments. All personally identifiable information is removed prior to display.