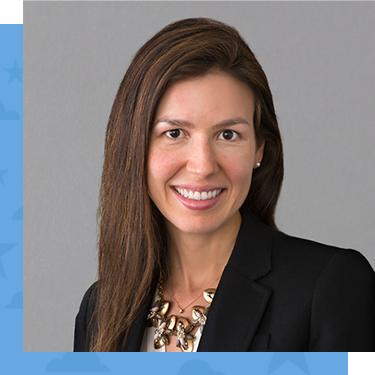 PATRICIA FERNANDES BOETTNER, DDS, MS
Diplomate, American Board of Dental Sleep Medicine
Why do some doctors not have a star rating or comments?
In order to provide our patients with the most accurate and beneficial information, we only post star ratings and comments for a doctor once they have received a minimum of 30 surveys within the previous 18 months.
Dr. Patricia Fernandes Boettner has been treating patients for TMD and obstructive sleep apnea for many years and joined The Facial Pain Center in June 2017. She attended the University of Minnesota, where she obtained her Doctorate of Dental Surgery, Master of Science and a certificate in TMD and Orofacial Pain. She continues to broaden her training and experience each year.
Education:
Doctor of Dental Surgery (2002), Universidade Game Filho, Rio de Janeiro, Brazil
MS, Certificate in TMD and Orofacial Pain (2008) University of Minnesota School of Dentistry, Minneapolis, Minnesota
Doctor of Dental Surgery (2014), University of Minnesota School of Dentistry, Minneapolis, Minnesota
Professional Activities:
American Dental Association
Minnesota Dental Association
American Academy of Orofacial Pain
American Academy of Dental Sleep Medicine
About Me:
In her free time, Dr. Fernandes enjoys living an active lifestyle: exercising, seeing the world, cooking, being with her husband and two children, as well as friends.
Locations
- Roseville
Roseville
1835 County Road C-West, Suite 200
Roseville, MN 55113
- Woodbury
Woodbury
241 Radio Dr
Woodbury, MN 55125
Verified Patient Reviews
Covered absolutely everything with me very helpful and very kind. And very professional.
Advise me to confirm with my insurance the coverage I received which was very smart
The explanation was a little fast. But the doctor answers my questions.
Dr. Fernandes was excellent!
I had a very positive experience - from the front desk team, to the dental assistant and to Dr. Fernandes.
I'm very impressed with the team at Dr. Fernandes's office. I have had excellent results, and feel like they really care about my success and comfort. I recommend them frequently.
Overall, I've had a great experience working with the team. I feel heard. I have many at-home care options now based on recommendations of the doctor. My quality of life has also improved given the reduction in pain after I followed the recommended treatment plan.
They did so well last year when I met them I didn't have any concerns about this appointment.
At the time of the first visit, it was a normal experience. I wish the doctor would have been more aggressive in treatment but I probably should have been more assertive.
I felt the first appointment was pretty good. The doctor spent quite a bit of time with me getting to understand the problem. The second visit was not a great experience. The doctor didn't follow up on anything from the first visit other than fitting me for my appliance despite me feeling worse. I didn't advocate for myself because I didn't' knw what to expect and wasn't prompted by the doctor.
The doctor is very friendly and professional. She was thorough in her examination and answered questions well.
I'm very happy with Dr. Fernandes; she's friendly and asks good questions and listens well to my comments/concerns
I have been please in the past with this dentist, but today I felt I was being a bit shamed for not doing as many of my exercises or for being "non-compliment." The dentist didn't stop to ask what barriers may be keeping me from doing these things or how she might help me to make a better plan going forward. As a medical care provider myself, I appreciate the motivational interviewing approach, to behavior change and find this more effective than shaming a patient to try and motivate them.
Informed and clear descriptions.
My provider put me at ease , explained preventative measures to me , very helpful..I do not remember her name
Dr. Fernandez is very easy to talk to. I feel like she respects me and sees me as a person. She takes excellent care of my conditions. I would absolutely recommend her to others but, I want to keep her to myself!
Dr Fernandes was very thorough. She took a lot of time to explain my condition (with visuals) and was great at explaining my treatment. I received written instruction, which I liked.
Will definitely recommend
I've been coming to this clinic for over a year now. I feel like my treatment has stagnated. I brought up the possibility of changing my mouth guard to an upper or an upper/lower combo instead of my lower. I feel my lower appliance is actually contributing to my pain. The Dr didn't want to hear any of that and put it back on me about keeping up with physical therapy and other treatments. She wasn't interested in hearing my thoughts. I'm considering starting over and going to a different TMJ treatment place now.
Dr. Fernandez was very patient, kind and listened and explained things very well.
Staff is great. Practice is probably fine. Dentist is not that great.
Dentist does not remember my issues from session to session, so it doesn't seem like she reads her notes before meeting with me. I am taking her recommendations and doing the best I can, and instead of collaborating and facing the problem together, she takes a very blaming and "shaming" stance every time. I need someone who collaborates with me against the problem instead of telling me that I am the problem and that if I "just do things perfectly", I wouldn't need to see her. Her approach is very demotivating and has not yet helped solve the problem.
Dr. Fernandez is so great! She's knowledgeable, understanding, gentle and is very thoughtful.
I had no anxiety, but I'm sure if I did, the staff would be excellent.
I had a great experience with Dr.Fernandes knowledgeable and kind!
Very satisfied overall. Staff was great. I really appreciated how thorough they were in telling me what additional treatments would cost and didn't proceed until they had my approval. I felt like I wasn't pressured to make any decisions but that it was shared decision making. Very satisfied, would recommend. Thanks!
The dentist listened to me, explained things well, I didn't feel she was rushing to see the next patient. She didn't shame me either for anything I could have done to prevent my condition, she just stated that stopping a certain habit could help and left it at that and I appreciated that, it helped motivate me to want to continue to work on that health habit.
Overall good experience. I wish you had more office hours/availability at Woodbury as I had to drive to Roseville, but overall not a big deal. I had a good experience and I liked the dentist. She asked good questions, explained what had changed with my jaw from when I began using the device 10 years ago, which was good to know.
Very professional and informative
De Fern?ndes was caring, listened well and included me in the decision of my case. I was very impressed by her knowledge and how she related to me.
I came initially for help on getting device for sleep apnea but then got help with my tmj. Very grateful to have connected with Doctor Bottner. She referred me to physical. Therapy and had a mri done. The therapy has been very helpful and the mri gave valuable information.
Both the dental assistant and Doc are always excellent to see. They take good care of me, listen and show they care.
Vey well satisfied with the sevice
Dr Fernandez is awesome!!!
Walked away feeling HOPEFUL for resolution
Costs were not discussed but the wide array of potential solutions was invaluable
Very thorough, explained everything
Both Dr Fernandez and the dental assistant were friendly and professional.
I have had impeccable care throughout my entire journey with the facial pain center.
Dr. Fernandez listen very well and made the adjustments to a mouth guard base on my input.
I would have liked further demonstration of the exercises to do. I have figured them out, however, I think correctly.
I had the appointment time mixed up and arrived 15 minutes late. They still made time to see me! Forever grateful!
Very informative and personal. Took the time to educate me and create a game plan.
I came in with odd and a bit vague symptoms, except for the pain, and she worked through what might be happening with great diligence and communicated with me clearly.
Very thorough and professional
Great place to refer family or friend.
Very knowledgeable about the process for the mouth guard. The pros and cons. Explained what is wrong in my mouth so I do not get enough air through there. How it can and will over time move my jaw and teeth.
She explained very thoroughly. I was so glad to have see who I did for the first. I had no idea at all about the process and see if it was a option I might want to have instead of the sleep apnea machine.
I truly appreciate Dr. Fernandez - she is so kind and understanding and most of all extremely helpful and knowledgeable about my facial pain issues.
Dr fernandes is amazing I already referred her to someone else who has been suffering with TMJ
The support staff has always been responsive to my needs.
She listened and responded to my concerns. The pace of the appointment was efficient, yet I didn't feel at all rushed.
Fantastic experience all around.
Both are great! Beyond expectations.
I would display a "I love my TMJ doctor" bumper sticker if they were available.
Everyone is always pleasant.
Dr. Fernandez is always attentive and very helpful
I thought the dentist was very thorough, listened to my thoughts and concerns, and explained things rather well.
The doctor took much more time with us than I expected. She was excellent.
Dentist seemed somewhat preoccupied-kept looking at watch. Bedside manner could improve
I was not nervous or afraid. Staff were very kind and professional.
Dr. Fernandez was thorough, very helpful, and kind. She helped me determine the best way forward, given my pain level and issues.
She was amazing and I look forward to working with her to resolve my facial pain issues/concerns.
Love the whole staff at facial pain center!
Dr. Fernandes has always done a great job of listening and assessing my needs.
Staff was helpful and professional.
I was seen right away, even though I arrived a little early.
Excellent care and explanations.
Overall a very positive experience from all staff. Highly recommend.
Dr Patricia explained how the jaw and jaw muscle work and what can happen when it does not work properly. She shared pictures of the jaw in a pamphlet and exercises to do to help with my issue. Both the assistant and dentist took time to explain what they were doing and answer my questions.
The information that the dentist gave me was helpful, but her bedside manner left much to be desired. I felt like she was annoyed by what I could and could not do given my jaw pain. That attitude was unhelpful. I already felt junky about how hard it is, so that didn't help. The tips and tools that she has given me have been helpful so far though.
Dr. Fernandez Boettner was great, I appreciated her expertise, her understanding and her thorough explanations.
this visit was one of the best I have had since I started at FPC!
The doctor was professional, understanding, thorough, helpful and listened. Really had a nice first experience.
Dr. Fernandez made me feel like I was being taken care of. I've been to two doctors before finally coming to Dr. Fernandez and for the first time, I felt like someone actually cared about how much pain I was in and was genuinely trying to help me.
PATRICIA FERNANDES BOETTNER, DDS, MS is amazing. She was very thorough in the exam and when explaining the treatment plan.
I had a great experience from scheduling to my visit.
Dr Fernandez spent time understanding my situation and showed compassion for how long I've been experiencing my symptoms. She suggested clear next steps of which I agreed with and appreciated how thorough she was.
Dr Fernandes is one of the best doctors I have seen. She is patient, not rushed, and actually listens to the patient.
Great experience. Thank you!
Doctor was running late, but appreciated being told as soon as I arrived and given options to wait or reschedule. great communication and courtesy.
Your staff is very professional and friendly
Dr demonstrated extreme care and concern for my issues
I was very impressed by my whole experience - I only wish I would of found you sooner!
I have always had wonderful, friendly interactions with the facial pain center staff and doctors. I have been a patient for 15 years or so. I think you are all awesome.
Dr. Fernandes is so wonderful. I have followed her from Edina, to Bloomington to Roseville. I live in Richfield and am willing to drive to Roseville because she is that great. She is kind and courteous. I just love her. She cares about me!!! And knows who I am and a bit about me. I cannot tell you how important that is to me.
Staff didn't rush my visit even though they were very busy. Dr. Fernandez took the time to make sure my oral device was adjusted properly.
I was very pleased with her service.
I've referred my son to you for jaw pain.
My Dr takes the time to listen and have jaw and neck exercises for me to do. and adjusted my splint.
felt she has a true concern for my overall health
Dr. Fernandes is always very kind and thorough.
I have recommended Dr Fernandes to others.
everyone is so friendly and professional
if only more clinics and more doctors were as caring and as professional. I feel very fortunate to have found your clinic.
I wish that Dr Fernandez practiced general medicine because she is one of the most caring, thorough and professional doctors I have ever met.
"I have had my appliance for about a month now. The difference it has made in the quality of my sleep is quite literally remarkable! I sleep sounder with far fewer wake events during the night. Best of all, I feel much better rested in the morning. My only regret is that I didn't visit the excellent Facial Pain Center team to pursue my sleep apnea dental appliance treatment option sooner."
"I have had my appliance for about a month now. The difference it has made in the quality of my sleep is quite literally remarkable! I sleep sounder with far fewer wake events during the night. Best of all, I feel much better rested in the morning. My only regret is that I didn't visit the excellent Facial Pain Center team to pursue my sleep apnea dental appliance treatment option sooner."